We continue the 2015 season grade series with the Bears defense. The Bears went through a transition this season much like Bruce Jenner. The Bears switched to a 3-4 base defense under new DC Vic Fangio.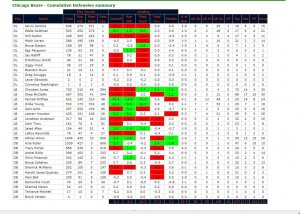 Defensive Line: C-
The Bears didn't get much help from the defensive line other than rookie second round pick nose tackle Eddie Goldman. Goldman got good pressure with 4.5 sacks, 6 hits and 18 hurries and was strong in run defense at the nose tackle spot.
The defensive end spots were the problems for the Bears. Ray McDonald was cut from the team due to domestic violence before the season. Replacement Jarvis Jenkins did not play well garnering a -15.6 grade. Jenkins did have 4 sacks, 6 hits and 25 hurries but was poor in run defense. Ego Ferguson and Will Sutton didn't transition from 4-3 DT well. Jay Ratliff was cut from the team in September and caused a scene which caused the Bears to call the police. Mitch Unrein is a backup and was average at best. Bruce Gaston had a few good pass rushes in limited snaps. The Bears have work to do at defensive end but should be set for three more years at nose tackle with Goldman.
Inside Linebacker: D
The Bears had major inside linebacker problems this season. Shea McClellin struggled in run defense and coverage. Christian Jones was good in coverage but terrible in run defense. Jonathan Anderson struggled when called to spell McClellin or Jones. ILB or DE will be the Bears top two defensive needs.
Outside Linebacker: A-
Ryan Pace hit a home run with Pernell McPhee in free agency. McPhee was a beast in run defense and excelled with 6 sacks, 13 hits and 48 hurries. Lamar Houston was an average pass rusher with 8 sacks, 4 hits and 21 hurries but did well in run defense. Willie Young played well in run defense and added 6 sacks, 7 hits and 33 hurries. Sam Acho was a solid 4th OLB too. The Bears are pretty strong at OLB.
Cornerback: C-
Kyle Fuller rebounded his second season with a +2.4 coverage grade. Fuller is a nice young corner that seems to be trending in the right direction. Tracy Porter and Sherick McManis struggled in coverage throughout the season. Alan Ball didn't play as well as expected either. The Bears need upgrades at the number 2 and slot CB spots.
Safety: C+
Adrian Amos had a good rookie year at free safety with strong run defense and decent coverage. The Bears have two good young secondary players to build around with Fuller and Amos. Free agent addition Antrell Rolle was average only playing 398 snaps. Ryan Mundy was injured and lost for the season in August. Harold Jones-Quartery is a young player who struggled early and got benched. Chris Prosniski is a backup who did a solid job playing over 300 snaps. The Bears have some good youth and some depth but need a better strong safety.
Overall Defense: C-
The Bears defense improved compared to 2013 and 2014. The transition to the 3-4 took some time but the Bears ended up 20th giving up 24.8 PPG. The Bears allowed a 99 QB rating and 4.5 YPC which was poor on both accounts. The Bears only forced 17 turnovers on the season.
Chicago has some good building blocks at nose tackle, OLB and two young secondary players. They must shore up DE, ILB and three secondary positions (CB, SCB,SS). Vic Fangio remains at DC along with John Fox as Head Coach and should build upon the 2015 season with upgraded talent. The Bears have plenty of cap room to add more defensive pieces to the puzzle.
The Bears finished 6-10 and went 1-7 at home but 5-3 away from Solider Field. Chicago was 23rd in offense and 20th in defense in PPG. They have some good building blocks on both sides of the ball and plenty of cap space in 2016. The Bears will continue to grow in year 2 under Fox, Fangio and Pace in 2016.