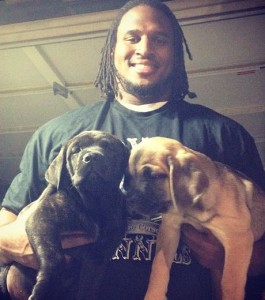 The Bears wanted to be fooled.
At 3:48 a.m. PST Monday, police officers were dispatched to the Santa Clara home of Chicago Bears defensive end Ray McDonald after McDonald reportedly assaulted a woman holding an infant. According to an emergency call from the mother of McDonald's ex-fiancée, a drunk McDonald acted violently toward his ex, causing her to lock herself and their infant daughter in a bedroom. The ex-fiancée then called her mother, who was away at the time, and requested she call 9-1-1 because the victim was attempting to escape with her child. During the call with her mother, McDonald broke down the bedroom door and attempted to leave with the baby, at which point the call disconnected. The dispute could have resulted from a disagreement between the victim and McDonald after he allegedly asked the victim to leave the apartment, which he was purportedly renting for her, along with their child.
After the incident McDonald left his apartment alone. He was soon found and arrested at around 6 a.m. by officers in the San Jose neighborhood of Silver Creek, allegedly at the home of soon-to-be fellow 49er retiree Justin Smith. McDonald is charged with misdemeanor domestic violence and child endangerment. He was booked at Santa Clara County Jail and is now free after paying his $15,000 bail. This the third incidence of McDonald assaulting a woman in the last nine months.
McDonald's arrest makes his signing by the Bears in December of last year all the more baffling. After a disastrous 2014 season followed by a change of management and coaching staff, this aging Bears team appears to be very much out of the playoff hunt. At the time of McDonald's signing he had just been released by the 49ers after being named as a suspect in a second assault investigation. It didn't make sense for new general manager Ryan Pace to take such a risk on an aging and unexceptional player like Ray McDonald, even with his old coach Vic Fangio on the Bears staff.
After McDonald's arrest Monday and release from the team, the evidence is damning. It appears that chairman George McCaskey let Fangio talk him into signing McDonald, then went about a charade of an investigation that only served to corroborate what they wanted to hear. Now Pace and McCaskey are forced to deal with the truth, that the victim of the assault in December was the first person they should have gone to during their "due diligence", instead of avoiding her with absurd excuses of her bias. The only good to come out of this sickening ordeal may be that George could finally decide to keep his withered mustache out the GM's affairs. His recent hire, Ryan Pace, now has his first strike on a swing that has everyone asking, "Was it worth it?"