Born and raised in Tampa and the surrounding beaches. Parents got season tickets in 1976, and I sat through the first 20 years of the Bucs' home games on the second row, 40 yard line. I am definitely a scarred individual. I reside in the beautiful state of Montana with my even more beautiful wife and son.
Overview:
So here we go again. Round 2 of the Saints vs Buccaneers yearly bouts. The Buccaneers have won 3 of their last four games while the Saints have dropped the last four straight. Both teams are riddled with injuries at key positions. The Bucs are fighting for a Wildcard spot and the Saints are fighting to not be swept by a division foe. Throw records out the door fellas. This is gonna be a dog-fight.
Saints on Offense: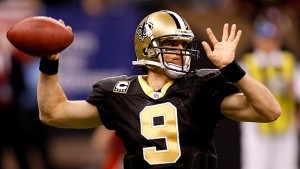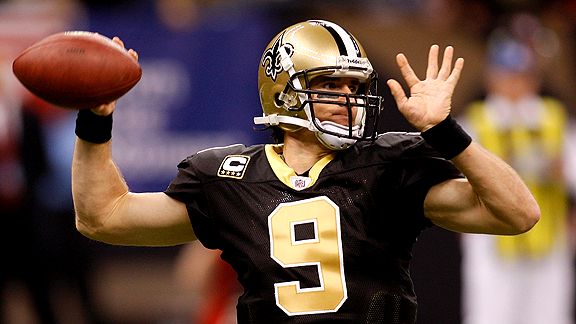 Regardless of how far the Saints seem to slide they always have that one x-factor that keeps them in the game; Drew Brees. No matter what the Buccaneers have done to Saints quarterback  over the past six years he has usually managed to find a way to win in Tampa Bay. No quarterback has had a better winning mark at Raymond James Stadium than Brees, who has been better against the Bucs on the road since 2009 (5-1) than he has at home (4-3) during that span.
He will be doing it this time around without starting Running Back, Mark Ingram who was placed on IR earlier this week. Brandin Cooks, New Orleans' up and coming star caliber Wide Receiver is currently under the NFL's concussion protocol and is questionable. Even a great QB like Brees can be beaten if the Defense makes him one dimensional and his weapons are limited.
Tampa Bay on Offense: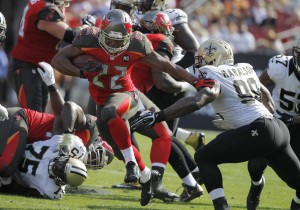 Tampa has a top ten offense for the first time since 2003. Much of this due to the resurgence of Doug Martin. Martin is second in the NFL in rush yards and Tampa is the no. 2 rushing team in the NFL. Dirk Koetter needs to go full throttle with running back Doug Martin in the running game to pound the Saints into submission, and then have Jameis Winston use play-action to throw bombs downfield to receivers Mike Evans and Vincent Jackson. Evans and Jackson are number one and two in the League in Yards per Reception thanks to said running game and the amazing growth of rookie QB Jameis Winston.
Jameis Winston is turning into a superstar right in front of our eyes. He started out the season looking very much like a rookie and he brought to light the worries that all the scouts had by throwing 7 interceptions in his first 4 games. Since then he has showed why he was the number 1 overall pick in the draft. He has only thrown 4 picks in the 7 games while throwing 10 TDs and rushing for 3 more. He has 12 passing TDs in the red zone to 0 Ints, an amazing number for a rookie. Tom Brady has 3 Ints in the red zone and Andy Dalton has 4 in comparison. Dirk Koetter absolutely raves about Winston's football IQ and how he never makes the same mistake twice. Tampa may have finally found the Franchise QB they have been looking for.
One of the other things helping out this offense is that it is finally almost completely healthy. Vincent Jackson came back last week after sitting out for a month and Austin Sefarian-Jenkins is back after being out since week 2. Rookie sensation Ali Marpet is finally back from a month of sitting on the bench with a bum ankle as well which bolsters the strength of an already surprisingly deep OL. No. 3 WR Louis Murphy is out for the rest of the year but Jameis has done a nice job of distributing the ball to un-drafted rookies Adam Humphries and Donte Dye. When you throw in back up TE Cameron Brate, Winston has 4 targets of at least 6'5″ to throw to.
New Orleans on Defense: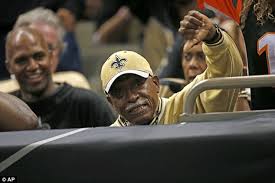 New Orleans' defense is just plain offensive! There is no nice way to put it. They are ranked dead last in the league in almost every defensive category that matters. They are last in scoring defense (31.7 points/game), last in total defense (425.2 yards/game) and last in rushing defense (137.8 yards/game). They're better in pass defense (287.3 yards/game), where they rank 31st out of 32 teams. When Tampa beat them earlier this yr the Bucs put up 333  yards of offense. That is the lowest total New Orleans has allowed all year.
The Saints are on course to join the rare 500-point club — only three teams in NFL history have allowed 500 points: the 1966 Giants (1-12-1, hitting the mark in only 14 games), the 1981 Ravens (2-14) and the 2008 Lions, who went 0-16. (lolions) In terms of total yards allowed, they're worse, on pace for the second-most in NFL history, trailing only … the 2012 Saints, who gave up 440 yards per game: 7,042 yards, or more than 4 miles. Throw in the fact that their star CB has a bad hammy and their other CB leads the league in penalties and the Bucs should have a field day on this defense.
Tampa Bay on Defense:
Depleted. This is the best descriptive word for the Bucs' defense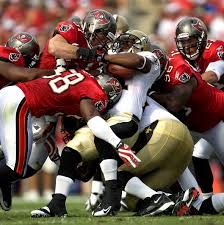 right now. All pro DT Gerald McCoy is listed as questionable but probably won't play.  All pro Lavonte David has sat out of practice most of the week with a sprained ankle and may not play this game. Leading tackler Kwon Alexander is suspended for the remainder of the season due to suspension. Both starting DEs, Jacqueis Smith, and George Johnson are out. To say that it is "next man up" for the Bucs' defense is putting it lightly.
One area of the defense that is stepping up is the Secondary.  A key reason for this is the emergence of Sterling Moore as a shut down CB. Undrafted out of SMU,  Moore has become a big-time playmaker for the defense since mid-season, and has routinely drawn the coverage responsibilities for the opponents' top receiver. Moore has personally taken on the likes of Dallas' Dez Bryant, New York's Odell Beckham, Jr., and most recently, Atlanta's Julio Jones, who was held to 93 yards and no touchdowns on eight catches despite being targeted 17 times by Matt Ryan. Moore accredits his late blooming to the fact that he didn't play football until his Senior year of High School. Tampa will need Moore to be on top of his game against Drew Brees.
Not only does Moore have to play a great game against the Saints, Tampa Bay's entire secondary needs to step up against a myriad of targets and continue to play good red zone defense. Without leading rusher Mark Ingram,  New Orleans will run the ball just enough with C.J. Spiller and Tim Hightower to keep Tampa Bay's defense honest, but will need Brees to sling the ball around to have the best chance of winning. Trying to beat the Bucs on the ground against a defense that is ranked seventh in run defense, allowing an average of 94.7 yards per game, is futile.
Outcome:
As is usual, in a divisional game you can almost throw records out the window. In this case the Saints are in danger of not only being eliminated but being swept by a team they swept last yr. This makes them dangerous despite all the chinks in their armor. They will fight today probably harder than they have all year for a victory.
In the end though, I believe that Jameis Winston has this Entire Bucs team playing at a different level than they ever have. In the past two seasons the Bucs have only won 6 games combined and have already matched that total only 12 games into this season. The Bucs have won 3 of their last 4 games and are getting used to that feeling that only comes from expecting to win. Jameis Winston has changed the entire culture of the Buccaneers locker-room and it is growing.
Buccaneers 34 – Saints 30