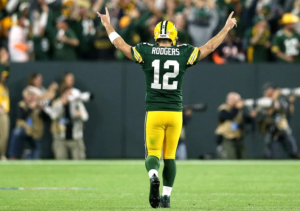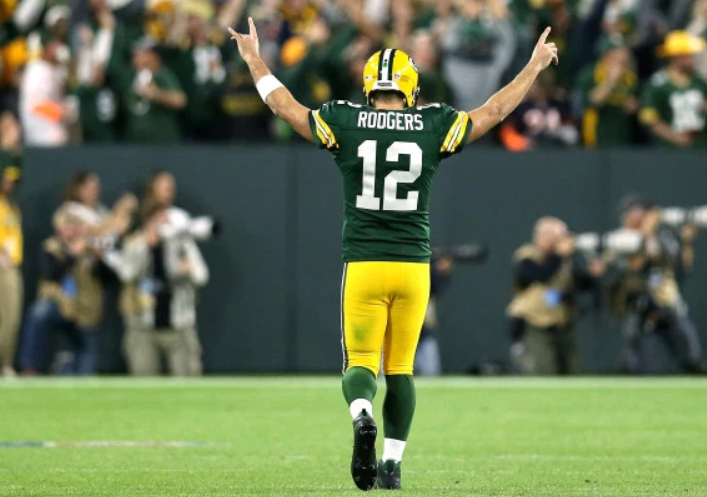 The Green Bay Packers overcame a 20-point deficit against their long-time rivals, the Chicago Bears, winning 24-23 on Sunday night.  The win came in thrilling, dramatic fashion as quarterback Aaron Charles Rodgers returned after halftime from what appeared to be a catastrophic left knee injury suffered in the second quarter.
And what a return it was.  Rodgers went 17 for 23 for 273 yards in the second half, including three (3) fourth quarter touchdown passes to Geronimo Allison (39 yards, 13:59 remaining), Davante Adams (12 yards, 9:01 remaining) and Randall Cobb (75 yards, 2:13 remaining).  Unable to move about the pocket or step into throws, Rodgers relied almost exclusively on his arm talent as he surgically moved the Packers up and down the field against a Bears defense that had wreaked havoc for the game's first 30 minutes.  This was a game Packers and Bears fans alike won't soon forget.
The Bears got off to a red hot start, forcing a punt on Green Bay's opening drive and then cashing in on a 10-play 86-yard drive with a two-yard touchdown run by quarterback Mitchell Trubisky.  The Bears' scripted first series featured an array of formations and personnel combinations that gave the Packers' defense fits.  Fans were briefly treated to a glimpse of head coach Matt Nagy's offensive genius and what this offense could be if Trubisky can take the next step.
After the first touchdown series by Chicago, the Bears' defense took over and asserted its dominance.   The Bears' prized acquisition, linebacker Khalil Mack, made his presence known.  He displayed an assortment of pass rushes, routinely pushing Packers' right tackle Bryan Bulaga back on his heels and pressuring, hitting and sacking Rodgers.  Mack quickly showed the prime time audience exactly why the Oakland Raiders were foolish to trade him and how special the Bears' defense can be with him in the fold.
Then the unthinkable happened.  Mack and Roy Robertson-Harris combined for a sack on Rodgers.  The Packers' quarterback fell awkwardly and the full weight of Robertson-Harris' body landed on Rodgers' left knee.  Rodgers got up briefly only to fall to the turf again, writhing in pain.  After an extensive on-field examination, Rodgers was carted into the locker room and, with him, the collective breaths of Packers fans everywhere.
With the Packers down 10-0, quarterback DeShone Kizer took over and the results were not pretty.  After leading a promising drive into the Bears' red zone, Mack beat Bulaga again and this time ripped the ball out of Kizer's hands, taking at least three (3) points off the board.  After a Bears punt, Kizer promptly threw an ill-advised pass that fluttered into Mack's hands.  Mack rushed up the sideline and returned the interception for a touchdown.  It was suddenly 17-0 and the rout appeared to be on.
Alas, it was not meant to be.  Rodgers jogged out of the tunnel after halftime and told Packers' head coach Mike McCarthy that he wanted to give it a go.  And boy did he.
Rodgers put on a performance for the ages in the second half.   Protecting the franchise, the Packers' offensive line did just enough to frustrate the Bears' pass rush and allowed Rodgers to get into a rhythm with quick passes.
Once he found a rhythm, it was goodnight, Chicago.  Rodgers masterfully led the Packers' offense up and down the field.  After a Packers field goal and a defensive stop, Rodgers threw an absolute dime to Allison, just beyond the reach of cornerback Kyle Fuller, for Green Bay's first touchdown.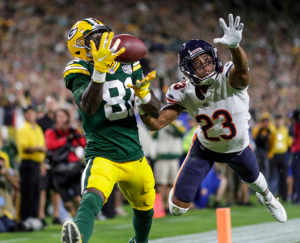 Game on.
Green Bay's defense sprang to life, getting stop after stop against Chicago's offense.  It appeared, at least to this writer, that the Bears had no idea what to do on offense after their scripted plays.  The vertical passing game was non-existent and the Packers did just enough to corral running back Jordan Howard, who had been effective for most of the night.
With the ball back, Rodgers & Co. marched right back down the field, culminating in a short pass to Adams in the flat that he took to the house.  20-17 Chicago.
The Bears answered with a 14-play drive that took 6:22 off the clock.  However, the Bears were unable to put the game away with a touchdown and instead had to settle for a field goal, putting them ahead 23-17 with 2:39 remaining.  What happened next will be in Packers' lore for years to come.
After a throw away, Rodgers threw a short pass to the right intended for Adams.  Adams fell in his route and the ball sailed towards the waiting arms of Fuller.  The ball bounced off Fuller's chest and fell harmlessly incomplete, as the cornerback dropped what would have been a game-ending interception.
The very next play, Rodgers was able to move ever so slightly in the pocket to buy Cobb enough time to put a move on his man.  Cobb turned back inside, Rodgers hit him in stride and Cobb raced up the field for a 75-yard touchdown.  24-23 Packers with 2:13 left.
In recent years, this would have spelled disaster for Green Bay's defense, which has a penchant for being unable to get key stops in big moments.  After a questionable decision by veteran linebacker Clay Matthews, who hit Trubisky on fourth down well after the quarterback had gotten rid of the ball, the Bears were the beneficiaries of a roughing the passer penalty and a new set of downs.
But it was not meant to be.  The Packers' defense played tight coverage on Trubisky's weapons and finally got home on fourth down, as linebacker Nick Perry strip-sacked the Bears' quarterback.  Game over.
It was a special night for the Packers (1-0) and Rodgers, who adds another gritty, unbelievable performance to his Hall of Fame resume.   They'll face the Minnesota Vikings (1-0) at home next week with a chance to take an early lead in a highly competitive division.
As for the Bears (0-1), it was a gut-wrenching loss by a young and improved team.   They'll get a chance to rebound against the Seattle Seahawks (0-1) in Chicago next Monday night.