Know Your Enemy: Philadelphia Eagles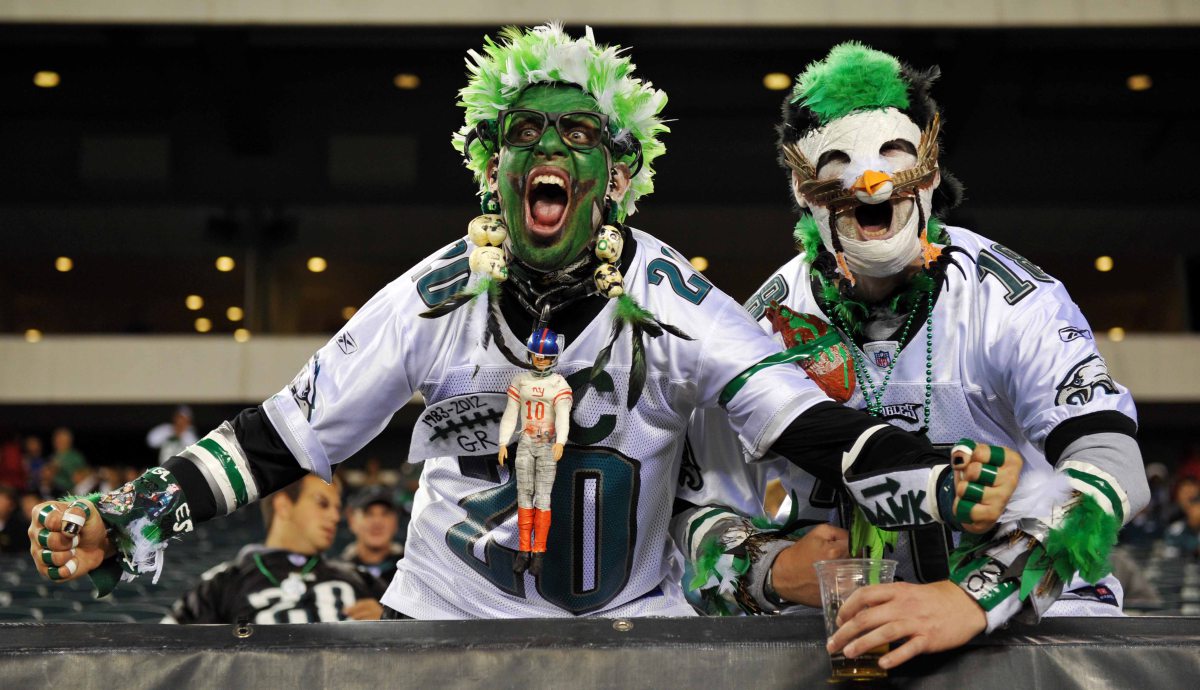 Know Your Enemy marches on with the Philadelphia Eagles. The Eagles exceeded expectations in 2021 under first year Head Coach Nick Sirianni. The Eagles made the playoffs as the 7th seed with a late season run and 9-8 record (3-5 home and 6-3 away). Shane Steichen OC and Jonathan Gannon DC return. They got bounced quickly by the Buccaneers with a struggling Jalen Hurts. The Eagles responded with an aggressive offseason in a big way.
Strengths
Offensive Line
The Eagles might have the best offensive line in the league. Jordan Mailata is not a household name left tackle but the 2018 7th round pick was 3rd ranked out of 82 tackles in 2021. He is backed up by 2019 first round pick Andre Dillard. Jason Kelce is the best center in the league and chose to return and not retire. Lane Johnson is the top right tackle in the league and will man that spot again in 2022. The guards are again no-name players but Jake Driscoll and Landon Dickerson (2021 2nd round pick) ranked 20th and 22nd respectively in 2021. Isaac Seamalu graded well and should be the RG over Driscoll possibly but was hurt in 2021 after only 168 snaps. Driscoll can backup RG and RT. Rookie Cam Jurgens was selected in Round 2 of this year to be the eventual replacement to Kelce at center. Eagles are talented and deep on the offensive line.
Weapons
Once a weakness, now a strength after the Eagles traded a 1st round pick for AJ Brown from the Titans. First round pick from 2021 Devonta Smith had a nice rookie season with 916 yards and 5 TDs. Dallas Goedert is a top 10 TE and added 830 yards and 4 TDs. Quez Watkins is a solid slot man with 647 yards and 1 TD. First round pick from 2020 Jalen Raegor is now depth and Greg Ward and Zach Paschal is solid veteran depth.  Miles Sander and Kenneth Gainwell have receiving ability too from RB position. Eagles are loaded for Hurts who can pass and run.
Defensive Line
Brandon Graham and Fletcher Cox are still good DE and DT veterans with consistent pass rush. Derek Barnett is a 1st round DE with consistent production but a slightly down year with only 2 sacks . Jordan Davis was drafted in Round 1 and Javon Hargrave (7.5 sacks) is a good nose tackle too on a big contract (32nd out 109 DTs).
Josh Sweat (7.5 sacks) is a solid backup DE that produces, and Milton Williams is a 3rd round pick from 2021 behind Cox at the 3-tech. Eagles defensive line is consistent pass rushers, solid against the run and deep. We'll see if Graham and Cox don't age too quickly and if Barnett rebounds though.
Secondary
Once a weakness, now a strength. Darius Slay is coming off a very good year at CB (4th out of 116) and they added James Bradberry after he failed on a big contract with the Giants. Avonte Maddox is a good slot CB (23rd out of 116 CBs).
Marcus Epps did well at safety (19 out 92) but Anthony Harris was middle of the pack. Jaquiski Tartt was added for depth from the 49ers and K'Von Wallace is 2020 4th round pick that continues to grow. CB depth is the only weakness with Zech McPhearson and Tay McGowen as the backups. Tartt can play in the slot some too though.
LB
Eagles keep finding strengths. TJ Edwards was 10th out of 87 off-ball LBs. Weak-side Kyzir White was 20th out 87 and they added Nakobe Dean from Georgia who dropped to them in the 3rd round for MLB depth behind Edwards. Hassan Reddick is a former 1st round pick that can rush from SAM LB as well.
2020 3rd round pick Davion Taylor backups up the weak side with Dean as depth in the middle. Underrate and pretty loaded with a good defensive line in front of them.
RB
The Eagles run the ball really-well behind this offensive line. Hurts adds yardage with his legs (784 yards). Miles Sanders had 5.5 YPC, Boston Scott 4.3 YPC and Kenneth Gainwell 4.3 YPC. Sanders added 754 yards in 12 games, 373 from Boston Scott and 291 yards from Gainwell. The Eagles will have a potent deep running attack in 2022.
Questions
QB
Jalen Hurts has the dream team but must get better as a passer. His 87.2 QB rating must get much better with all these weapons, run game and protection. If he takes the next step, the Eagles will be a very dangerous time. Otherwise, they will be looking for a new QB with extra 2023 draft picks.
Schedule
Eagles travel to Detroit Week 1 and to Chicago in Week 15.  Eagles host the Vikings on MNF in Week 2 and Green Bay Week 12 for Sunday Night Football. They are going to be a very tough and deep team to play in 2022. Getcha popcorn ready. Eagles could very well win the NFC East and make a little playoff run depending on Jalen Hurts.