I'm just an average Joe. I live in a shoe box in my parents driveway with two dead hookers. I sprinkle cocaine on my cereal, because coffee just doesn't do it for me. Most days I have mild to moderate diarrhea, and all of my erections last more than four hours.
NBA legend Kobe Bryant and his daughter were among nine people killed in a helicopter crash in Calabasas, California, on Sunday.
Bryant was on his way to a travel basketball game with his daughter Gianna Bryant, who was 13, when the helicopter crashed.
There aren't many people who rise to the status of legend, but, I believe, Kobe Bryan will. Prior to Kobe, players like Wilt Chamberlain, Bill Russel, Bob Pettit, and Michael Jordan were king. Legends in the NBA. Kobe, was compared to all.
Kobe was an 18 time All-Star, 15 time member of All NBA, and 12 time All Defensive team.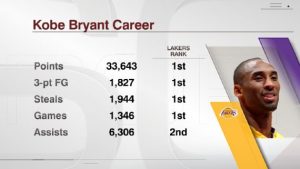 Kobe was drafted out of Lower Merion High School in Pennsylvania. He set the stage  for another so-so High School basketball player, LeBron James. He spent his entire career with The Los Angles Lakers, a rarity in today's NBA.
Kobe's last Tweet:
Continuing to move the game forward @KingJames. Much respect my brother 💪🏾 #33644

— Kobe Bryant (@kobebryant) January 26, 2020
He was the youngest player to reach 30, 000 points
He scored the second highest single game total of 81 points against the Toronto Raptors. Second only to Wilt Chamberlain's 100 points.
He was a four time All-Star MVP, tied with Bob Pettit.
He was the first, and last,  NBA player/team to have a three-peat since Michael Jordan.
There are certain events that catch the worlds breath, and make a mark in time. The assassination of John Kennedy, The space shuttle Challenger, 911, the death of Princess Diana.
Personally, I remember the day I heard Walter Payton died, November 1, 1999. The day after Walter died, I wore his jersey to work (instead of my required uniform). People I had never talked to walked up to me and patted me on the shoulder, tears welling in their eyes.
We are all mortal, and death is part of life, but some times it's too soon. Sometimes it hits too close to home. Kobe had a wife and three daughters who will never see him again. This is just sad.
And if you didn't know, now you know.
-Nortorious B.I.G.