I'm just an average Joe. I live in a shoe box in my parents driveway with two dead hookers. I sprinkle cocaine on my cereal, because coffee just doesn't do it for me. Most days I have mild to moderate diarrhea, and all of my erections last more than four hours.
"Mitch is not the problem",
is a far cry from,
"Mitch is good".
If you're interested in arguing a point, at least state the point accurately. No one is saying, Mitch is good. No one is defending what can at best be called inconsistent, and sometimes down right awful play of the Bears young signal caller. However, anyone who say Trubisky is the Bears problem is either straight trolling, or doesn't watch the games. Mitch is "part" of the problem.
The Bears offensive problem is a four headed monster.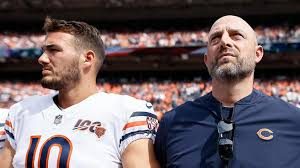 Trubisky's inconsistent play.
Trubisky is an average starting NFL quarterback. He has a 63% completion percentage. He's accurate on short and intermediate throws. He is wildly inaccurate and inconsistent on deep balls. He has trouble adjusting when he gets past his first read, and tends to have "happy feet" in the pocket. That said, he has decent pocket awareness and good mobility.
Nagy game planning/play calling
"I'm not an idiot". Nagy is relatively new to play calling, and he's a first time head coach. His play calling was questioned before he ever arrived with the Bears, after he gave up a second half lead in Kansas City, by abandoning the run, in a losing playoff effort. It took him 8 weeks to commit to his running game. Even in today's NFL, it is important to establish a running game in order to soften a defense, and open up your offensive game plan. Since week one, it has been difficult to identify any plan to Nagy's play calling. He has also been questioned in situational play calling, and clock management.
Offensive line issues.
The Bears offensive line absolutely sucked for the first three weeks of the season. Part of that can be attributed to swapping Cody Whitehair and James Daniels. Early on, Kyle Long suffered a hip injury, which he tried to play through. He's now on IR, and while the line, as a unit, has played better over the past 3 weeks (especially in pass protection), they still show little ability to open holes in the running game. You could see last week's game as a good sign, or realize that they were playing the Chargers. In either case, they are still committing too many penalties as a unit, which has put the offense behind the chains, making everyone's job more difficult.
Poor tight end play
The Bears tight ends are awful. Trey Burton has never lived up to his contract. His availability has been an issue, and his play has been underwhelming. Adam Shaheen was a long shot, a project, and now, a bust. Their other TEs are blocking TEs, not known for their receiving skills. This is a problem, because whether you look at KC, Philly, or Chicago, you realize how important the TE position is to this offense.
Is Mitchell Trubisky an elite quarterback? Absolutely not. Is Mitchell Trubisky a good quarterback? No. Is Mitchell Trubisky the reason the Bears offense sucks? No…At least, he's not the only, or even (in my opinion) the main, reason the Bears offense is struggling. In my opinion, there are only three quarterbacks currently in the NFL who process the experience, mobility, decision making ability, and accuracy to make this version of the Bears offense better; Aaron Rodgers, Drew Brees, and Russell Wilson. While other (Wentz, Mahomes, Watson…take your pick) could survive, I think you need years of experience to overcome this many deficiencies.