Game Observations: Chicago finds a way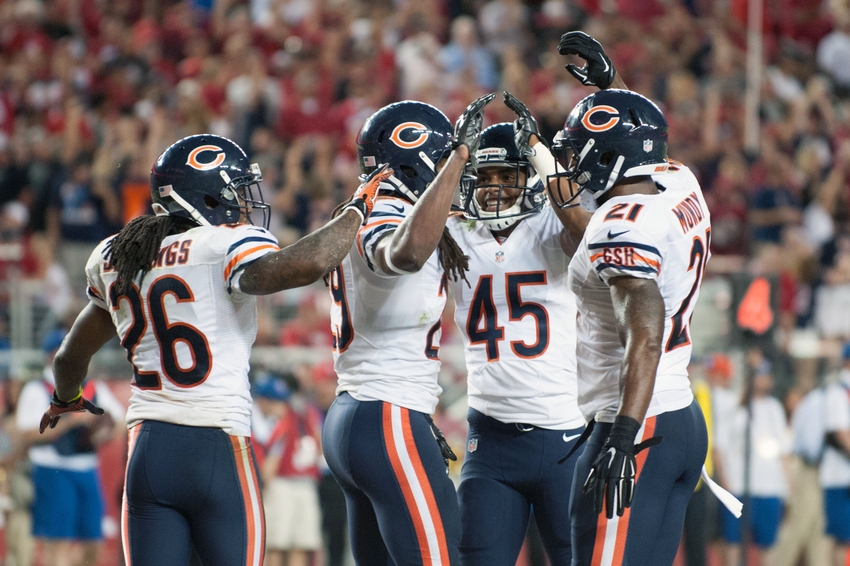 The Chicago Bears found a way to defeat the New York Jets on Monday night 27-19, which for playing a team with a very good defense on the road certainly bodes well for continuing the overall confidence building coming off another similar win against the San Francisco 49ers the week prior.
The defense continues to make strides
Again coming off a solid performance against the 49ers, the defense this past week went up against a Jets team who was leading the league in rushing at 179.0 yards/game. However the Bears held the combination of Chris Johnson and Chris Ivory to only 114.0 yards, which again is a victory for the maligned Bears defense. With defensive tackle Jeremiah Ratliff sidelined while recovering from a concussion suffered against the 49ers, rookies Will Sutton and Ego Ferguson received their first real game action, with Sutton and Ferguson combining for five tackles, two tackles for loss, one sack, and one quarterback hit. Cornerback Kyle Fuller, replacing the injured Charles Tillman, continued to impress with seven tackles and another interception, giving him three for the season and a share of the league lead. And in the linebacking corp Jonathan Bostic filled in for the injured Shea McClellin at strong-side linebacker for the first time and tallied a team high 13 tackles.
Statistics are all fine and good, but the eye test shows that the Bears defense may be finally finding itself as the new, young, and old players continue to gel as a unit running Mel Tucker's revamped scheme this season. With the Bears offense off to a slow start, it's not a stretch to credit the defense in winning the past two difficult road games for the Bears and that is certainly a welcomed sight.
Martellus Bennett making amends
It doesn't seem that long ago that talented yet quirky tight end Martellus Bennett was indefinitely suspended from the team during the preseason after an on-field altercation with rookie Kyle Fuller. Certainly at the time many questioned Bennett's practice habits and attitude, and whether Bennett was becoming a bit of a distraction on a team who boasts humility and cohesiveness. Bennett made amends of course and was reinstated, and it seems his time away may have lit a spark under Bennett who is easily off to his best start of his career. With extra time working with quarterback Jay Cutler, Bennett has through his first three games caught 20 balls with four touchdowns and has quietly become Cutler's go-to pass catcher in the red zone and on critical downs. With receivers Brandon Marshall and Alshon Jeffrey still battling lingering lower leg injuries, and the Bears running game off to a league worst start, Bennett's emergence has more or less carried the Bears offense up to this point.
Matt Forte making fantasy football owners sweat
The Bears running game featuring Matt Forte unfortunately is off to a terrible start, having only tallied 136 yards on 42 carries, good for a 3.2 yards/carry average thus far this season. Those numbers land the Bears dead last in the NFL in rushing, something that definitely has to improve. Looking at the positives however, the Bears have gone against three very tough defenses so far, with all three really keying on taking away Chicago's running attack while forcing Jay Cutler to beat them through the air which luckily has worked for the Bears the past two games. Be patient, as the Bears will continue to work Forte into the offense through the passing game and giving him running opportunities based on the defensive schemes they are playing. But perhaps Forte's biggest asset is actually Jay Cutler, who if continues to play solid mistake-free football as he has the past two games will begin to loosen up defenses for the Bears running attack.
Conclusion
Once again the Bears beat a solid opponent on the road in prime time, something which is never easy in the NFL. Against the Jets the offense did enough to win but still didn't find much consistency in moving the ball for four quarters, but credit that to a stout Jets defense who pressured the Bears offensive line and Jay Cutler all game long.