Born and raised in Tampa and the surrounding beaches. Parents got season tickets in 1976, and I sat through the first 20 years of the Bucs' home games on the second row, 40 yard line. I am definitely a scarred individual. I reside in the beautiful state of Montana with my even more beautiful wife and son.
It's Baaaack!
Howdy Southies!! It is Christmas time in the football season. And I am glad to be bringing you some more NFCS News again this yr. Santa is coming with a whole bunch of shiny new parts to our respective teams, and we all have been dreaming about What exactly those new parts are. I know all of us have been researching our teams' needs and drooling over who we want our teams to take, so in the interest of journalism, I would like to produce my own mock for us here at Exus. Without any further adieu let us get to the supposition.
Atlanta Falcons:
Biggest Draft needs:
Atlanta's three biggest needs are Pass Rusher, TE, and DB. Atlanta has not had an edge rusher that struck any semblance of fear into opposing QBs since John Abraham departed. They also have not been able to solve the TE security blanket for Matt Ryan since Tony Gonzalez left so there is that need too. I think DB is the least of these three needs and I dont see any talent at DB good enough to be taken at no. 8.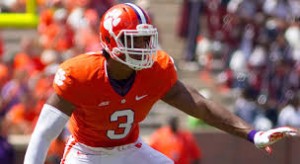 Atlanta's Pick:  Vic Beasley, OLB, Clemson.
I had Shane Ray here a few weeks back, but the toe injury could be just enough for the Falcons to take Beasley. Beasley is a beast! During his four seasons at Clemson, Beasley totaled 52.5 tackles for loss, 33 sacks, 29 quarterback pressures, 11 pass breakups, seven forced fumbles, two recovered fumbles and two touchdowns in 1,421 snaps over 48 games (25 starts). He ranks first in school history in sacks, fourth in tackles for loss and tied for seventh in forced fumbles.His 33 career sacks came during the final 39 games of his career and pushed him past Michael Dean Perry, Gaines Adams and William Perry on the school's all-time sack list.  He is a total Machine that I hoped and still hope will not be in this division. I am sure that barring Beasley going to the Saints I'm sure LSU4life would agree with me.
Carolina Panthers:
Biggest Draft Needs:
Carolina's top three needs are Pass Rusher (common theme in this division), OT and CB. Greg Hardy is now in Dallas with his assault weapons and woman beating ways so QBs can breathe a little easier here in the South. We haven't had to face him for the last 15 regular season games, and nobody else will either for the first ten games of the season. There will still be a great deal of talent in the edge rusher department when the Panthers are on the clock.
Lets not forget how much help they need at OL. The losses of Jordan Gross and Travelle Wharton and all the injuries they had they did well to be the 22nd ranked OL  in the NFL per PFF.  In the Panthers case there is some DB talent that might be obtainable in this spot but I think the Panthers do the right thing and go for best OL available and somehow DJ Humphries and Andrus Peat are still on the board for this pick.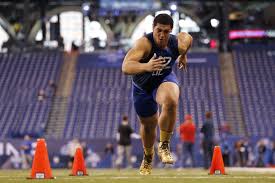 Carolina's Pick: Andrus Peat, OT, Stanford.
At 6'7 and 315 lbs and his quickness you wonder if he couldn't play DE as well. This is one of the two guys I wish my Bucs could get but we are going QB so this guy is out of our reach now. I think Peat only falls this far because of need. So many teams before Carolina have needs greater than OL or there happens to be a BPA situation for said team.
Peat is a rare combination of height that has superior lower body weight. The guy has tree trunks for legs on a guy that is 6'7″. He also has uncanny balance and quickness that a guy his size should not possess. He started the last 27 games of his career at Stanford and he has very little injury concerns. The guy could be a solid 10 to 12 yr starter which is a Win for any team.
 New Orleans Saints:
Biggest Draft Needs:
Funny thing about this year's draft is that out of all four teams, Pass Rusher is at least the second biggest need for the entire division. New Orleans needs a CB as well and many people expect the Saints to reach towards a QB for Drew Brees' future replacement. There are several QBs that mirror Brees in many ways in the way Payton likes but the first round is not about QBs for the Saints. Once again there is no DB talent that is worthy of this pick in this draft.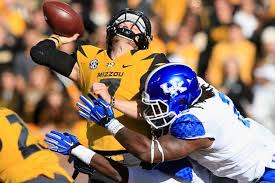 The Saints' Pick: Bud Dupree, OLB, Kentucky.
This guy is a Straight up Freak!! He is somewhat raw but what Football recruit from a Basketball school wouldn't be?  If you factor in this guy's size versus his vertical leap your calculator might blow up. He posted incredible 42-inch vertical leap and 4.56 40 at the combine while weighing 269 pounds. That is almost as fast as Marcus Mariota with a Larger vertical leap!!! This guy is freakish in his vertical and lateral movement. The Saints is exactly the right team for this guy to land on right  now.
Tampa Bay Buccaneers:
Biggest Draft Needs:
There is no doubt whatsoever among any rational football fan that watched Tampa play last yr that their  'Offensive Line' was just plain offensive! They were doing their best impressions of turnstiles in a New York Subway. QB is a need for the Bucs,  as well as Pass Rusher, which seems to be a constant in this division. Even though OL is the biggest need for the Bucs, I have the best OL going to Carolina because so few teams need OL more than skill positions. This is where I wish I could get all Homerish and say that I am SURE that Tampa will take Mariota.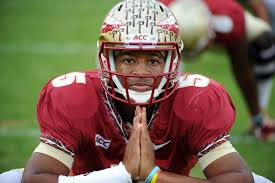 The Buccaneers' Pick: Jameis Winston, QB, FSU.
The more I listen to the "But Jameis is more 'NFL ready' because he played in an 'Pro Style offense' the more sure I am that the Bucs will just continue to be the Bucs. Jameis is definitely more used to passing from the pocket, which is what most experts say is paramount for success in the NFL . In Jameis' freshman ( Heisman ) year he threw 40 tds to 10 ints. At that point he had Kelvin Benjamin, a first round NFL talent. In his next yr he threw 25 tds to 18 ints. Anyone see the difference? This kid played on at least the third most talented team in the NCAA and led the NCAA in Ints!!!!!! Not Good in my opinion!
Final Opinion:
I think Every team other than the Bucs scored an A on their first round draft choice!
It has been and will continue to be a pleasure writing for you guys. Peace, Love, and Superbowls.