The Green Bay Packers hosted, and bested, the Tennessee Titans last night, winning 31-17.  Both teams played hard, but the Packers played more hard.  From a Packers perspective, the most interesting items from this otherwise entirely needless money grab of an exercise was the play of Brett "ALL ABOARD" Hundley and Deshone Kizer, for whom Green Bay traded during the off season.  Hundley got the start.  Did he look better?  Here's the numbers:
Brett Hundley: 9/14, 108 yards, 7.7 YPA, 1 TD, 1 INT, 81.9 rating;
DeShone Kizer: 9/18, 134 yards, 7.4 YPA, 0 TD, 0 INT, 74,8 rating.
Neither was very good, and their numbers are not that different.  There you have it.
Hundley did connect with SuperStud (status: Pending) Davante Adams on a pretty 48 yard bomb.  Enjoy the gif:
Oh wait I couldn't find it.  Here he is looking like a badass in cold weather though: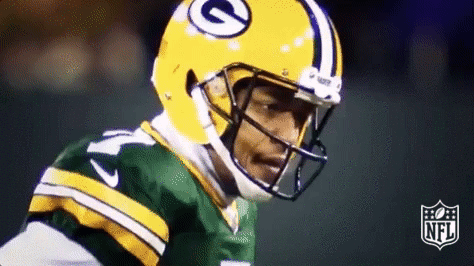 Also notable for the Packers were two young receivers, Marquez Valdes-Scantling (five (5) receptions for one hundred and one (101) yards and one (1) touchdown) and Equanimeous St. Brown (four (4) receptions for sixty one (61) yards and one (1) best name in football).  Each looked solid in their debut, which is also utterly meaningless as they were not playing an opponent who really cared to put forth their best defensive effort while using their best defensive players.
I hope you enjoyed the game.