I was born a poor black child. I remember the days, sittin' on the porch with my family, singin' and dancin' down in Mississippi where I learned the three rules of life: Lord loves a workin' man; don't trust whitey; see a doctor and get rid of it.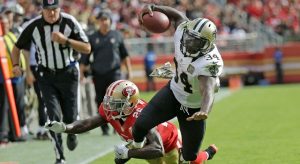 Most of the world saw this coming because San Francisco is bad.  Really bad.  Almost Cleveland level bad.  However, games like this can worry a Saints' fan because during the Sean Payton era, New Orleans has a tendency to play down to their opponents.  I don't know if the 18 point victory means that the Saints finally played their game against a poor opponent, or if the Saints' weren't playing down because they're pretty bad too.  Probably a little bit of both.  Whatever the reason, they won and I'm happy.
REVENGE FOR 2011 SEASON DIVISIONAL GAME
I heard many in the media talk after the game that this was payback or revenge of the shoot-out NFC Divisional Playoff game lost by the Saints on 14 January 2012.  Those people are dumb.  First, that was a playoff game and this was a regular season game between two teams who have almost no shot at the playoffs.  Second, if you're going to get revenge for a loss, you do it the very next time you play that team, not almost 4 years later.
WHAT WENT RIGHT
The running game in general and Mark Ingram specifically were on fire.  Yes, San Francisco has the worst rushing defense in the league, but it's still a good thing when your team can run the ball 42 times for 248 yards and two touchdowns.  After being benched for fumbling at crucial times in two consecutive games (and possibly causing the Saints the win in Kansas City), Ingram came back with a purpose, running the ball 15 times for 158 yards and a touchdown.  Tim Hightower also had a solid day with 87 yards and a touchdown.  Drew Brees and the passing game were what we come to expect in that area.  Brees finished the day completing 71.8% of his passes for 323 yards and 3 touchdowns.  10 different players caught a pass for the Saints with one being a highlight reel catch by rookie wide receiver Michael Thomas in the end zone.  The Saints also converted 11 of 17 third downs, increasing their league best 53% conversion rate.
WHAT WENT WRONG
The defense.  Well, that's not totally fair.  Yes, they did allow Colin Kaepernick to throw for almost 400 yards and a rating of 102.3, they did what needed to be done to counter act that.  They held San Francisco under 100 yards rushing, but that's probably more due to the fact that the 49ers were playing from behind and had to abandon a running game that was averaging 5.5 yards per carry.  All totaled, the 49ers had 491 yards of offense, but the Saints offset it by taking the ball away 4 times.  This works when playing a team like San Francisco, but it will not work against the better teams in the league.  Coby Fleener had another ho-hum game, catching 3 of the 6 balls thrown his way for 42 yards.  I hear people say that they're not on the same page yet, but I say Fleener just isn't that good.  He's in his fifth season, so he should be experienced enough to catch balls that thrown where they need to be.  It is also starting to look as if Brees/Payton have lost confidence in him as Josh Hill got 4 targets (all caught) this game after having a total of 7 targets in the previous 7 games.
GOING FORWARD
Delvin Breaux, Sterling Moore and Sheldon Rankins made appearances in this game with very little impact.  Maybe they just need to knock the rust off, but if this unit doesn't do something to improve, the Saints would be lucky to finish at .500 for the season.  Next week they face the defending Super Bowl champions in New Orleans.  New Orleans' high powered offense vs Denver's high powered defense.  The Broncos' mediocre offense vs the Saints' horrible defense.  If the Saints can find a way to win, they will be above .500 for the first time this season.
SIDE NOTE
It doesn't seem to matter where he goes, the cheer follows him.  FB John Kuhn caught a pass in the flat yesterday and when he did, the call of, "Kuuuuuuuuhhhhhhhhnnnnnn" could be heard.