Born and raised in Tampa and the surrounding beaches. Parents got season tickets in 1976, and I sat through the first 20 years of the Bucs' home games on the second row, 40 yard line. I am definitely a scarred individual. I reside in the beautiful state of Montana with my even more beautiful wife and son.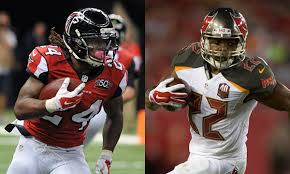 Overview:
So here we are with week 13 fast approaching and the Bucs and Falcons are both in the Playoff hunt. No that wasn't a typo and I am completely sober as I type this. Whodathunkit right?! Both teams are currently on the outside looking in but Atlanta is in the next playoff position if Seattle slips up and Tampa takes that spot if they pull off the sweep of the DirtyBirds.
The Bucs have the easier road between the two teams. Their remaining games are:  vs. Falcons (6-5), vs. Saints (4-7), at Rams (4-7), vs. Bears (5-6), at Panthers (11-0). Three of the five remaining games are at home and week 17 the Panthers will probably be resting their starters after securing Homefield through out the playoffs. The Falcons' remaining games are: at Buccaneers (5-6), at Panthers (11-0), at Jaguars (4-7), vs. Panthers (11-0), vs. Saints (4-7). That is 3 road games and they get the Panthers twice. It will be feast or famine for sure with 4 of those games being against divisional opponents.
Both Tampa's and Atlanta's biggest current obstacle are the Seahawks. Their remaining games are  at Vikings (8-3), at Ravens (4-7), vs. Browns (2-9), vs. Rams (4-7), at Cardinals (9-2). This schedule is already daunting and then you have to consider that the the Rams have won 2 of the last 3 against the Hawks. Yeah, it won't hurt my feelings if the Seahawks go on a losing streak.
Atlanta's Offense trending down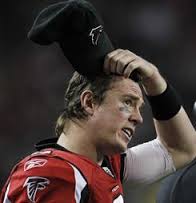 Atlanta started off the yr hot with a Five game win streak and seemed to be a real threat for teams on their schedule. In that time span Matt Ryan only posted one game with less than a 91 passer rating with a modest 6 Touchdown to 4 Interception ratio. In the last 6 games he has posted 3 passer ratings below 78 and thrown 10 Touchdowns to 7 Interceptions. So, both phases of his ratings are down but is he the main problem? Not many rational Atlanta fans will buy that.
The Falcons are having offensive problems all around including missing their Dynamic second yr back out of Florida State University. This guy turned out to be a steal in the fourth round. Freeman has proven to be such an asset as both a runner and receiver. In his absence the Falcons had to turn to Tevin Coleman. The drop-off was staggering from watching Coleman waste multiple opportunities. In stead of picking up much needed yards, Atlanta constantly found themselves in third and long situations. Rookie running backs do tend to, well be rookies, but he has fumbled 3 times in his last 30 carries and everyone of them costly. Freeman will be back this week and will be facing the NFC's Best Run Defense.
In all reality, what the Falcons are probably missing most is the Bucs' biggest asset, Dirk Koetter. Oh Yes! This is where karma can run over your dogma. Atlanta lost a Great Offensive Coordinator  last yr when Smith got the axe, and Tampa was the beneficiary . I can mutter two words that will send Falcons fans in a tissy right now…….Kyle Shanahan. Koetter had Matt Ryan looking like an almost elite QB for a while there. Atlanta had a less than stellar OL for the last couple yrs and Koetter still took the focus off of that. Atlanta misses Koetter to say the least. RIP Shanahan. You can only live off your dad's coattails for so long.
Tampa's Offense on the Rise
There are not many times in my life, and I haven't missed a game in 39 years, that I have ever had faith in Tampa's Offense.  We have been to Two NFC C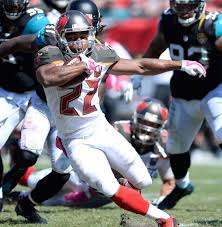 hampionship games where our Defense only allowed 9 points and we lost in both games. Both against the Rams coincidentally but that is a topic for another day. Let it be known that Tampa's championship teams don't even have an Offense. It has been offensive to us fans for decades!
Enter Jameis Winston, Ali Marpet, Kwon Alexander and suddenly the Bucs are infused with young talent. Winston has won Rookie of the week 3 times already along with Rook of the month for Nov. Kwon has won Rook of the week Twice and Defensive Player of the week once. This team is loaded with young talent and the Offense is the focal point for once. This has never happened before
For the longest time now, Tampa fans have yearned for a Franchise QB. I believe we have finally found one! Jameis Winston started out looking like a rookie with 7 Interceptions in his first four games. In his last 7 games he has thrown 10 Touchdowns to only 3 Interceptions. In his best game, against Philly where he threw 5 Touchdown passes, he threw to 5 different WRs and every throw had a different touch on it. The kid is already so poised that his headset went out for almost an entire quarter and he ran the playbook right out of his head and ran the offense like a Seasoned Veteran. Impressive stuff right there.
Along with the improvement at the QB position, Doug Martin is back to his rookie form as of late. He has already eclipsed the 1,000 yard mark in rushing and is on pace for 1,500 rushing this season. He is second in the NFL only to Adrian Peterson. Martin is fully healthy and is running hard behind a Surprisingly deep Offensive Line. As long as Lovie runs the Dougernaught early and often the Bucs stand a good chance in this match-up.
Atlanta on Defense:
Atlanta ranks 11th in total Defense, and Tampa ranks 12th so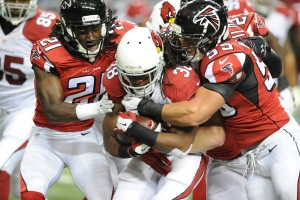 this seems like a pretty good match-up. The standard game plan against a Rookie QB is to rush him relentlessly to rattle him. Not only is Jameis not easily rattled but Atlanta hasn't been getting to the passer enough. Vic Beasley, Atlanta's number one draft pick this yr, has not lived up to expectations as a pass rusher yet. He only has 3 sacks this yr as is getting hit and chipped alot to neutralize his speed rush. We will surely develop but he is getting frustrated it seems, with the skills of NFL offensive lineman.
The Falcons defense did a pretty good job of containing the Bucs in the first match-up. If not for a late drive by Winston the game would have belonged to them. If Martin runs steady it will all be on Desmond Trufant to force a turnover or at least make Winston throw another way and take away one area of the field. If they aren't getting enough pressure up front then they have to create some turnovers in order to force Tampa to run more and make them one dimensional.
Tampa Bay on Defense: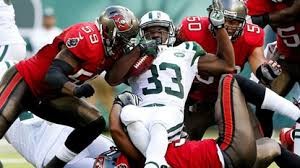 Banged-up doesn't even begin to describe Tampa's Defense right now. Gerald McCoy and Jaqueis Smith, Tampa's two best pass rushers are both out. It is unknown if Rookie Sensation Kwon Alexander will play due to the NFL's ineptitude concerning his alleged suspension. His expensive FA backup, Bruce Carter is out with a concussion so who will play MLB for us is a mystery as I write this. I have no idea how this unit will do in this game missing so many cogs.
One thing that Tampa must do is make sure Julio Jones doesn't get lined up against un-drafted rookie Jude Aji-Barimah. Barimah got toasted so many times last week in Indy that I think he came out of the game three shades darker. If that match-up does occur then Lovie better make some adjustments and get him some help over the top. If Julio Jones gets going then it is going to be a Long day for Tampa.
Outcome:
This is a must win for Tampa as far as getting a wild card but it is a must win game for Atlanta to not completely collapse for the season. Being swept by Tampa after starting out 5 and 0 would probably be just too much for the players and the Fans would already be looking forward to the Draft. This combined with Tampa's massive injuries makes me have to pick the Falcons in this one. 28 to 27