I was born a poor black child. I remember the days, sittin' on the porch with my family, singin' and dancin' down in Mississippi where I learned the three rules of life: Lord loves a workin' man; don't trust whitey; see a doctor and get rid of it.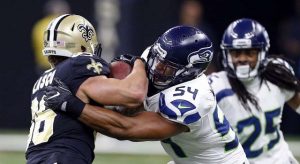 Let me be the first to say that I will gladly admit that I was wrong when I predicted the Seahawks would come away with a 24-17 victory.  The Saints defense showed up and held Seattle to 13 points while the offense was able to eek out enough points against one of the best defenses in the league.
THE RETURN OF JIMMY GRAHAM
Those of us down on the bayou know how dangerous Mr. Graham can be, and even though he didn't leave us on bad terms, he was the enemy Sunday.  Jimmy's time up on Seattle has been less than ideal; from injuries, to an offense that isn't nearly as prolific in the passing game, his numbers just haven't been the same.  However, the chance for a big game is still there.  I can't say if the Saints schemed for him well, or it was just that Seattle still hasn't figured out how to use him, but Graham was held in check with 3 catches for 34 yards on 5 targets.  The Saints miss you Jimmy.
WHAT WENT RIGHT
Well, the obvious answer is, the Saints won.  Having Dannell Ellerbe in the lineup for the first time this season was positive sign and the LB had a decent game with 5 combined tackles (4 solo).  Tackling on the defensive side of the ball was also a bright spot.  With very few exceptions, Saints' defenders were making the open field tackles.  There was even a Jairus Byrd sighting; the overpaid safety had 10 total tackles (8 solo).  On the offensive side of the ball, Michael Thomas, the second round draft choice, is continuing to emerge as the second coming of Marques Colston.  The 6'3″ Thomas had 6 catches on 6 targets for 63 yards and pretty much had his way with Richard Sherman when the two were lined up across from one another.  Outside of the defense, I would have to say the biggest thing that went right was RB Tim Hightower.  After a crucial Mark Ingram fumble for a second game in a row, Sean Payton sat Ingram and played Hightower for the remaining 3+ quarters.  Hightower finished the game with 102 yards on 26 carries.  Not a bad ypc (3.9), considering the defense he was running against and it kept Seattle from playing the entire game in nickle or dime coverage.
WHAT WENT WRONG
As mentioned above, Mark Ingram.  Last week, he fumbled in the red zone, costing his team a chance at three points, at the minimum and this weekend, his fumble was returned 34 yards by Earl Thomas for a TD.  Ingram wasn't a fumbler in college and he hasn't had a problem with it in the pros (3 fumbles, 1 lost, in the 5 seasons prior), so let's hope it was just bad luck.  Coby Fleener is quickly joining a long list of poor free agent signings by the Saints.  He caught all 4 passes thrown to him Sunday for a total of 36 yards, but he seems to have a problem with getting open and it's almost like Drew Brees doesn't trust him to make the catch in traffic like he did with Jimmy Graham or Ben Watson.  To make matters worse, he doesn't seem to realize that he's a big guy.  One play in particular stands out; in the third quarter, with the Saints trailing by 4 and on Seattle's 14 yard line, Drew Brees hit Fleener in the flat for what should have been an easy TD.  Instead, Fleener was stood up at the goal line by Richard Sherman.  Don't get me wrong, Sherman is a great player but the 6'6″, 250+ lb Fleener, with momentum, should not have been stopped by the stationary 195lb DB.  I also have an issue with Sean Payton's play calling early in the second quarter.  Down 7-0, with the Saints defense playing well so far, Payton opted for a FG try other than going for it on 4th and 1 inside Seattle's 5.  No harm, no foul as the Saints eventually won the game, but I like my coach to be a bit more aggressive.
GOING FORWARD
Getting Ellerbe back is the first sign that the Saints defense is getting healthy.  If CBs Delvin Breaux and Sterling Moore as well as first round draft pick Sheldon Rankins can find their way back in the next week or two, the Saints defense may be able to hold opponents under 35 points a game on a some-what regular basis.  Next up for the Saints are the 1-6 49ers in San Francisco.  The 49ers are a bad team, but with Colin Kaepernick back at the helm, this is no cake walk for the Saints as they have problems with mobile QB's.