Born and raised in Tampa and the surrounding beaches. Parents got season tickets in 1976, and I sat through the first 20 years of the Bucs' home games on the second row, 40 yard line. I am definitely a scarred individual. I reside in the beautiful state of Montana with my even more beautiful wife and son.
Today we look at a match-up of two division bottom-dwellers. The Cowboys are entering Raymond James Stadium on a 6 game losing steak. The Bucs on the other hand have only won 1 home game in the last 12 attempts. Should be exciting, right?!
Cowboys Offense:
The Cowboys have been a Huge disappointment to their fan-base. Lions fans may argue that their pains are worse after going 11 – 5 last yr and currently sit at 1 – 7, but that is a discussion for another article. A great deal of Dallas' woes are due to injury. While it is true that all teams deal with injuries, not many teams are ready to lose their starting QB in week 2. And as if that wasn't bad enough, they had also lost their star WR who is arguably Top 5 in the league for several weeks.
To say that losing Tony Romo was huge to Dallas' offense would be an understatement. Behind him they had only Brandon Weeden. I mean really, that is the only other QB on the roster at the time of injury. This is a back-up plan? So the Cowboys see the need to get some help at the position and go out and sign powerhouse former Tom Brady back-up Matt Cassel.  Since Romo went down the Cowboys have lost six games in a row. This would epitomize horrible back-up planning.
As we look towards the other skilled positions on the Cowboys Offense we see similar disarray. Last years rushing champ and record setter, DeMarco Murray, is now playing for division rival Philadelphia. His replacement, Joseph Randall, (whom I drafted in fantasy too high believing he could produce the same results behind that OLine) has been cut by the team outright basically for being a total douchebag and is now suspended for four games when he doesn't even have a job!!! Dez Bryant was out for 6 weeks with an injury, and is currently throwing national temper tantrums that would rival my son's best ones when he was 3.
Basically this offense is missing its biggest stars, and the guy pegged to replace one of the stars isn't even on the roster anymore. It seems able to rack up some stats when they don't matter but it doesn't have the heart it had with it's leaders at the helm.
Buccaneers' Offense:
In the past when you put the words Buccaneers and offense together not only was it offensive but it was an oxymoron. As much as this franchise is known for defense and now has a supposed "Defensive Guru" for a coach, the Bucs' team identity is now being formed by the Offense.
A good deal of this change is due to the drafting of Rookie QB Jameis Winston out of FSU. Those that frequent this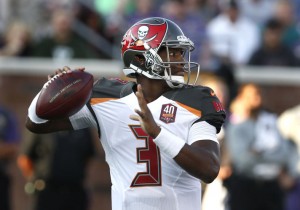 site will laugh a bit inside knowing how hard it is for me to write this stuff as I am eating crow. As a UF alum and fan I don't particularly care for FSU by nature. I was never a hater but a serious doubter for sure.
After starting off throwing 7 interceptions in his first 4 games he has not thrown an interception in his last 4 games. This represents a huge improvement stretch by any rookie in his first NFL campaign.  Winston has far surpassed what the Front Office had hoped for him, which is a total home-run in business.  But he is only one of four rookies making an impact.
Tampa is the only team in the NFL that has started all 4 of their first 4 draft picks for all 8 games. Three of those rooks are on Offense. OG Ali Marpet, OT Donovan Smith and QB Jameis Winston. Tampa's OL was supposed to be the weak point of the team by far and it has become a major strength.
While this is perplexing to the Nation and Bucs' fans alike, we are encouraged with the run blocking for Doug Martin and equally as discouraged by Mike Evans' drops. This team is ready to explode or implode on offense.
Cowboys Defense:
This Sunday is a homecoming of sorts for Rod Marinelli. He coached one of the meanest, nastiest, and most feared defenses of all time here in Tampa from 1996 to 2005.  Luckily for the Bucs he does not bring one of those defenses in here. This defensive unit is extremely banged up especially in the LB corps where every starter is either injured or out.
This Defense is especially bad in the fourth quarter. Whether it is a loss of talent in Free Agency or it is a loss of talent due to injury this team has zero sacks in the fourth quarter. Considering they have lost 6 in a row this doesn't bode well. Going past that, the Cowboys' Defense has not forced one turnover in the fourth quarter this year. Think that is bad? Dallas has lost two overtime games this year where they didn't get to touch the ball. To say they are susceptible to choking would be an obvious understatement.
Buccaneers Defense:
In the beginning of the year Tampa was being referred to as the "Tampa Bay Cowbears". This tag was well deserved due to the amount of Cowboys's and Bears' players that Tampa signed in the off-season. From Dallas alone the Bucs signed Henry Melton, Bruce Carter, and Sterling Moore. These moves have perplexed Tampa fans to say the least. Lovie Smith's Free Agency moves have been less than stellar for two years running it appears.
I say this because, of all the Dallas players we acquired, none have made an impact. That is, until last week when Moore was activated and scored an interception on the first play of the game for him. Bruce Carter has yet to start a game because rookie Kwon Alexander, who never played MLB before, beat Carter out before the preseason. Melton is only playing due to necessity like Moore.
This Defense is full of promise but lacks the talent on the back end to be considered formidable by any team that has a sure foot for the gas pedal.
Overview:
I can go all "homeristic" here but I have to think that could bite me in the posterior. I fully believe we win this game comfortably because I believe that the depletion in the Dallas LB corps will leave the middle of the field so vulnerable that Jameis Winston will have a field day that few rookies have had the opportunity to achieve.
On the other hand, the Cowboys have Matt Cassel, who hasn't won a road start since 2012.
Bucs: 31
Cowpies: 20