Born and raised in Tampa and the surrounding beaches. Parents got season tickets in 1976, and I sat through the first 20 years of the Bucs' home games on the second row, 40 yard line. I am definitely a scarred individual. I reside in the beautiful state of Montana with my even more beautiful wife and son.
Hello my Southie brethren, and anyone else that is reading that cares about the worst division currently in the NFL.  Today we break down the NFCS draft picks for each team and discuss what grades each team is given. Of course there is no truly effective way to grade a draft class until the third yr after said draft, but it is always fun to speculate.  For the present though, we can examine the team's pre-draft needs and how they filled or failed to fill those needs. So for now I will give my two cents on how I feel we all did, and I will give some grades. Feel free to chime in at the comment section and tell me how you think I did.
Atlanta Falcons

Pre-Draft needs

Draft

Pass Rusher, TE, DB
In my last article I had Atlanta's three main needs as, Pass rusher, TE, DB. And I predicted them to pick Beasley. Anyone with half a brain that can spell the word football knows that, barring injury, Beasley is a Home Run. Not that the Braves know much about that but the Falcons sure hit one here. Let's take a look at the rest of the line-up.
Vic Beasley, OLB, Clemson
Jalen Collins, CB, LSU
Tevin Coleman, RB, Indiana
Justin Hardy, WR, East Carolina
Grady Jarrett, DT, Clemson
(7th rd.) Jake Rodgers, OT, Eastern Washington
(7th rd.) Akeem King, S, San Jose St
Ok, so everyone of us in this division that isn't a Falcons fan is dreading the Beasley pick. Hey at least Shane Ray and Randy Gregory were too bone headed to end up being picked this high as well due to their propensity for getting high. Said and done that we Southies all have to play against this guy twice a year which leads me to an interesting observation. The Falcons got Beasley, maybe because of Ray and Gregory being so ignorant, yet their next pick I had going to the Packers in Round 1, were it not for him Also wanting to smoke Nature's finest. So, the Bible Belt state of Georgia is racking up off of all the pot smoking around here.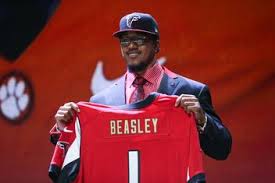 In all serious though, in almost all the research I have done Atlanta won the draft as far as the division is concerned. I am inclined to believe this in some instances, with some other variables that might or might not be in place in a few different tangents. Atlanta addressed Pass Rusher, presumably very very well, with Vic Beasley. Next they shored up DB with CB Jalen Collins out of LSU. I had Collins going to GB in the first so the ten or so spots he fell worked against the rest of the NFCS.
In all honesty I really thought they would pick up a TE! I mean, when you think about the Falcons and Matt Ryan you think about Tony Gonzalez! Of course Matt Ryan is a year older and they have a diff OC, maybe they aren't going to be as TE oriented in their Offense.
All in all in my opinion the Falcons did a great deal to improve their team through the draft. I have to give them a B+.
Carolina Panthers

Pre-Draft Needs

Draft

Pass Rusher, OT, DB
Here we have the FIRST time ever Back to Back NFCS Division winners! The fact that they did so with a losing record doesn't mean much though does it. This team still Rocks!. Um, let me gather myself now so that I can go on giving you guys some really good football news. People have pretty much gotten over the fact that the No. 1 overall pick in 2011 is still a losing QB in the NFL. Most of them still point out that the overall team of Carolina sucks and that is why Tim Tebow still has a better win % than Cam Newton.
Shaq Thompson, OLB, Washington
Devin Funchess, WR, Michigan
Daryl Williams, OG, Oklahoma
David Mayo, LB, Texas St.
Cameron Artist-Payne, RB, Auburn

Be all that as it may we still must look at their new draftees and see how the team was improved.
So, for starters, Carolina had Eight picks in this draft and dwindled them down to Five by trading up for need. Sometimes this gamble works out and sometimes it doesn't. We all know that the draft is a crap shoot, but let's focus on what we Do know right now.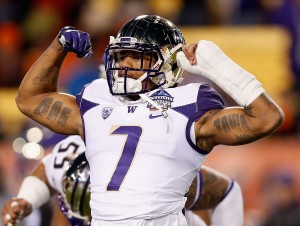 Shaq Thompson holds a 90% chance of being a decent starter in this league if not above average, barring injuries of course. This kid has more awards hanging in his closet than a porcupine has quills. He won the Paul Hornung award last yr which goes to the most Versatile player in the country. This guy can tackle, he can cover, he can catch, and he can play RB. Playing next to Luke Kuechly. I can't see this doing anything but helping his rookie production.
Funchess is another big target, 6'4″ to go along with Kelvin Benjamin. I think they reached a bit for this one though. Maybe they see potential, and they get paid to do so, but he tends to short arm the ball and struggles to find the high point. He has extraordinary speed, 4.47 for his size but pass catching seems "labored" for him by several scouts. His body control is great in routes but won't win enough of the 50/50 balls that are so popular today in the NFL.
So, bottom line is Carolina took care of the Pass Rusher with an "A" but they failed to get an OT, unless they plan on switching Williams to T, and they failed to get any DB help. I can't see any way to give Carolina more than a C- for now.
New Orleans Saints

Pre-Draft Needs

Draft

CB, Pass Rusher, QB
Ahh the Brees' years are getting shorter, which is something all other NFCS teams Love to think about. Sorry Saints fans but the little dude is a a Surgeon and none of us like him. All kidding aside I wonder who the Saints are looking at to eventually take his place. Is Garrett Grayson the future "man"?
Andrus Peat, OL
Stephone Anthony. LB, Clemson
>Hau'oli Kikaha, LB, Washington
Garrett Grayson, QB, Colorado St.
P.J. Williams, CB , Fla. St.
Davis Tull, LB, Tennessee
Tyeler Davison, DT, Fresno St.
Damien Swann, CB, U.G.A.
Marcus Murphy, RB, Missouri

OK, so right off the bat, the Saints get at least the second best OL in the draft,  behind Scherff. The Bucs needed this guy more but weren't able to pull the trigger due to some BB gun shooting guy that threw 7 int's to 6 td's in his last three games, two of em to spread offenses, but he played in a Pro style offense. Go figure. Peat  was majorly on my 'wish list'! Much more than any other player we drafted. The funniest thing is it wasn't even listed as a need for the Saints. They did the right thing and added the BPA without blinking an eye. In my opinion they just signed a Ten yr starter on the OL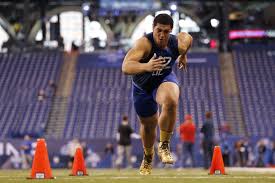 As we move on to the rest of the Saints' draft, we see nothing but needs being met with needs available. I mean, these guys racked up this year. More than the rest of us NFCS wished they would have. They signed three LBs and a DT to fulfill their pass rusher needs and two CBs as well.  Garrett Grayson just may be the steal of this QB class sitting behind Brees for the next two or three years. This guy has great lateral quickness for a QB. Very shifty and he set Co. St. passing records under current Gators H.C., Jim McElwain.
So the Saints covered Every need I posted for them, most of them several times and they drafted the second best OL in the class which I rated as their fourth biggest need. Wow! I am not saying that all of their picks will work out but as far as drafting for need vs BPA…..They got both.  My grade is a solid A.
Tampa Bay Buccaneers

Pre-Draft needs

Draft

OL, QB, Pass Rusher
Wow, I had to write a whole bunch to finally get to what I want to write about and most of you will skip over. This is probably the second most important draft in the Bucaneers' franchise history, right behind the one that brought them Warren Sapp and Derrick Brooks. It is not very often that the first overall pick comes along and as a team you Must do the right thing with it.
Jameis Winston, QB, FSU
Donovan Smith, OT, Penn St
Ali Marpet, C, Hobart
Kwon Alexander, LB, LSU
Kenny Bell, WR, OSU
Kaelin Clay, WR, Utah
Joey Ioesfa, RB/FB, Hawaii
Those of you that know me know pretty much how torn I am on our first round selection, and I can hear some of you laughing at me. For those of you that don't know me, let me explain as quickly as possible. I am a Gator born and bred so a great deal of people think I am against JW simply because he is a Seminole. Not true. I was against JW because he has shown me nothing that says " you can trust me with your team". He is ours now and I will support him with every fiber of my being but I will not sleep easily on weekends for the first year of his tenure in fear of waking up Monday morning to some boneheaded " immature act".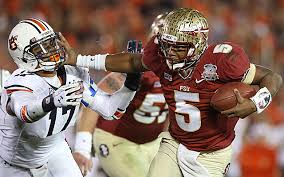 After JW, I think the Bucs did as best as they possibly could have in the draft. Their second and third selections were Donovan Smith and Ali Marpet respectively and both fit the largest needs on the team without any doubt. Smith is going to be a day one starter and Marpet can play G and C and will compete for a starting job as well. I am rooting for the Marpet kid really hard as is a large portion of the nation because he is a Div III kid and the only other NFL player from Hobart was drafted since 1948, If these two kids can really protect Winston, he has Vincent Jackson, Mike Evans, (both over 1,000 yards last yr) and Austin Sefarian-Jenkins that are as tall and more athletic than Kelvin Benjamin. The Bucs Could be special if the first three picks pan out! Outside of that I keep hearing that Kenny Bell could be the perfect slot receiver but only time will tell.
So the Bucs addressed their most glaring need with the Second and Third selections both in the second round. They addressed their second most glaring need in the First round but neglected to address pass rusher. Normally I would knock a team down for this but with Fowler, Gregory, Williams, Beasley, Ray, etc. going in the first round I suspect there will be some quality pass rushers on the wire and we get first shot so the penalty decreases.
If Winston can mature and show that he is no longer at FSU then we have scored a ten plus yr Franchise QB that would give us an A++ in this draft. I can't say that right now based on his last three yrs in all honesty. That said, outside of him being thrown out of the league in his first three years, it was still The pick to make.
So in the bottom line of my non-Homeristic attempt at journalism I have to give this draft a B-
So there we have it. My opinions out there on the web. What a world we live in. I will be back next week with some mini-camp shite and stuff. Oh and I almost forgot the gratuitous "Hot Chick" pick. Later fellas.